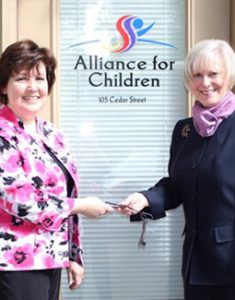 Alliance for Children board of directors proudly announces Linda Smith as the new Executive Director. Linda brings over 30 years experience in education and nonprofit work. Through her leadership with JobReady Partnership and its New Century Scholars Program, Linda has collaborated with local organizations and businesses providing educational opportunities to students who might not otherwise choose a college education.
"This is my home of 36 years and I have invested most of my career energy into providing for our children. I can't think of a better place to continue serving than with Alliance for Children. I look forward to working with our Board of Directors, staff and other organizations in the community to create bright futures for young children." – Linda Smith.
Mary Ann Rasberry served as executive director for the organization's first 17 years. "I am looking forward to working on both the state and local level as a volunteer advocate focusing on children's issues and the importance of early childhood education." – Mary Ann Rasberry the event on Facebook and learn how you can enter to win!