As parents, we are our child's first teacher.  That's a big responsibility, especially since 90% of a child's brain happens in the first five years of life.
Alliance for Children supports a continuum of programs to support parents from birth until the time your child starts kindergarten.  Being a parent is a big job, but you are not alone.  There are resources that can help you every step of the way. Our website will introduce you to a variety of programs and resources available in Health, Family Support, and Early Childhood Education – right here in Union County.
Discover how to encourage your behaviorally-challenged child or how to find the child care environment that will allow him to flourish. Find out how Latino and Hispanic families are connected to consistent, long-term health care or how a new mother can find support and fellowship from her peers.
Best Start
Best Start Teen Parenting Program – works with adolescent and teen parents within Union County Public Schools. Program counselors teach life skills needed to parent infants and young children, model and reinforce positive parent-child interaction and facilitate regular school attendance and encourage high school graduation.
Circle Of Parents
Circle of Parents – provides a friendly, supportive environment led by parents and other caregivers.  It's a place where anyone in a parenting role can openly discuss the successes and challenges of raising children with special needs
Dolly Parton Imagination Library
Dolly Parton's Imagination Library – It sounds almost too simple to be true, but by reading regularly with your children during their preschool years, you are giving them the biggest boost toward a successful education they will ever get. Dolly Parton's Imagination Library will help you read with your child. There are many reasons parents do not read to their child, but we can eliminate one of them. Every child will have books of their very own, at no cost to you, thanks to Smart Start and Dolly Parton.
Each month a new, carefully selected book will be mailed in your child's name directly to your home.  He/she can look forward to new and exciting reading adventures from Dolly Parton's Imagination Library until he/she turns five years old as long as you remain a resident of Union County.  Dolly Parton's Imagination Library is a FREE GIFT to our children!   All you have to do is read to your children.   (Please allow up to 60 days to receive your first book.)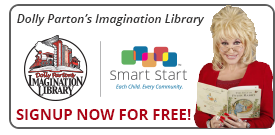 Motheread
Motheread –curriculum based classes to help parents support the age-appropriate, literacy skill development of their infants, toddlers and preschoolers while improving their own listening, speaking, reading, and writing skills.
Care Subsidies for Working Families
Child Care Subsidy  – The subsidized child care program helps low-income families pay for child care.
Looking for quality child care?  Call the Child Care Resources Inc. Search Helpline for early child care facilities in your area. Check out our guide to help you choose a quality child care site. 
Nurturing Parent Program
Parenting Support and Nurturing Parenting Program – provides intense parenting education sessions for families struggling with the parenting role or who are experiencing the early stages of child maltreatment.
Interested in online learning of positive parenting skills especially for families facing challenging behaviors.  Click here to access the Triple P online course available for free for North Carolina parents.  
Breastfeeding Support
Breastfeeding Peer Support – provides guidance, support and education to mothers enrolled in the Women, Infants and Children's program, increasing their chances of successful breastfeeding.
Inclusion Support
Inclusion Support – Is your child struggling with behaviors in their child care classroom?  This program assists children with challenging behaviors, their parents and child care providers with training, technical assistance and resources to help integrate the children into standard early childhood programs.
Are you concerned about your child's development?  Click here to see the developmental milestones chart. For additional resources related to child development and special health needs, click here.
NC Pre-Kindergarten
NC Pre-Kindergarten – a free, high quality program designed to enhance school readiness for eligible four-year-old children. The program follows the public school calendars, with children attending class each day for six and one-half hours at four and five star rated child care centers.  Transportation is provided by the child's family.  Studies have shown that students in high quality pre-kindergarten are more likely to succeed in grades K-12 and throughout their lives.
Click here for details on eligibility and applying for this resource.
Smart Start Resource Center
Smart Start Resource Center – Lending library offering multi-cultural and educational materials for infants, toddlers and preschoolers. Parents, child care providers and students can borrow toys, books and musical instruments for children's play or to strengthen motor skills for a minimal fee.  Storytime and other activities are available throughout the year. To learn more, contact the Smart Start Resource Center at 704-290-5894.
Community Education
Community Education – Learn about child development, community resources and much more through our website, community events and connection to our programs.

Kaleidoscope Play and Learn
Kaleidoscope Play and Learn –  provides family, friends, neighbors and caregivers with information, resources, support and connections.  The program assists in providing high quality child care and development opportunities for children to be prepared to succeed in school and in life.  Class size is limited, pre-registration is recommended. To sign up or for more information call:  704.226.1407