State Representative Dean Arp and his wife visited NC Pre-Kindergarten students at the Walter Bickett Education Center on December 11th, 2013.  They learned about the benefits of early education, creating students who are more successful when beginning Kindergarten and ultimately how studies show that Pre-K benefits those children later in life.
From social skills, students with developmental delays, family support programs, daily routines, transportation and inclusion, Representative Arp received a detailed experience in the life of many of the four-year olds participating in the NC Pre-K Program.   Walter Bickett Education Center Principal, Ken Roess and NC Pre-K Administrator, Suzanne Walters hosted the two hour tour.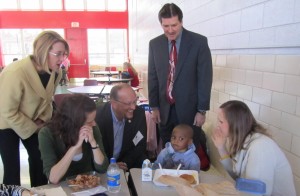 Pictured left to right: Mrs. Arp,  an assistant teacher, Rep. Dean Arp, Principal Ken Roess, student Tyrese, and his teacher.  Tyrese explained they were learning about the Gingerbread Man and numerous other things in the classroom.